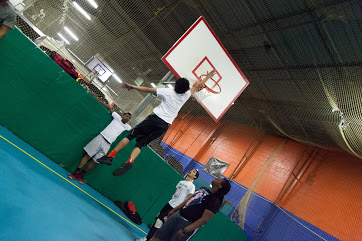 So, what is a Lock-In?
The Lock-In is The Bridge's annual night full of sports, games, fun, and absolutely no sleep!
We will be meeting at 10:00pm in the parking lot at JOHN E DWYER TECHNOLOGY ACADEMY on Friday, January 18, 2019. We will travel by bus to B Bond's Grand Slam in South Plainfield.
There, students will have access to batting and pitching cages, full and half court basketball courts, an outdoor turf football/soccer field, laser tag, arcades, and much more! Included in the admission price, besides access to the sports equipment, everyone will get 10 free arcade tokens, one game of laser tag, pizza in the evening and donuts in the morning. Additional arcade tokens and snack shop food can be purchased if desired.
We will arrive back at DWYER TECHNOLOGY ACADEMY at 7:00am on Saturday, January 19, 2019.
Frequently Asked Questions
Are there ID or minimum age requirements to enter the event?
The Lock-In is open for students in middle and high school (grades 6-12) only.
What can I bring into the event?
Feel free to bring your own sports equipment (basketballs, footballs, baseball gear, soccer ball, etc). The facility provides some equipment, but if you have a special piece of equipment that you need, you can bring it on your own. Phones and other mobile devices are acceptable, though most of your friends who aren't at the Lock-In will probably be sleeping while you are there.
Note: The Bridge and B Bond's Grand Slam are not responsible for any of your personal items brought on Lock-In 2019. It is your responsibility to keep an eye and your hands on your own stuff.
How can I contact The Bridge with any questions?
You can email us at bridge@bridgeyouth.com or at @bridgeyouth on Instagram, Twitter, or Facebook.
The Details
DEPARTURE:
Friday, January 18. 2019 at 10:00pm
John E Dwyer Technology Academy Parking Lot
RETURN:
Saturday, January 19. 2019 at 07:00am
John E Dwyer Technology Academy Parking Lot
WHERE WE WILL BE:
B. Bond's Grand Slam
910 Oak Tree Road, South Plainfield, NJ
COST:
$55.00
HOW CAN I REGISTER?
You can register and pay online at Eventbrite.
Spread the word and share your Lock-In experience with the hashtag?
#BridgeLockIn